There's something about pumpkin that just fills us with joy, even more so when it's included in a pumpkin dessert.
Maybe it's the beautiful orange color, maybe it means that autumn is on its way or already here, or maybe it's the rich pumpkin taste.
Whatever it is, these desserts with pumpkin are seriously the best pumpkin desserts you'll find, ranging from cookies to cakes to cheesecakes.
You'll find kid-friendly pumpkin desserts, as well as more detailed recipes that will test your baking skills and teach you some new techniques.
Enjoy this round up of the best pumpkin dessert recipes and let us know which one you love the most.
GET A

FREE

COOKIE RECIPE BOOK & SECRET BAKING HACKS!
With 9 guaranteed-delicious cookie recipes and plenty of secret baking hacks, this is your ad-free key to cookie success!
Must-Have Baking Tools (seriously)
1. No Bake Pumpkin Cheesecake in Mason Jars
This recipe for no bake pumpkin cheesecake is ideal for a special dessert served with whipped cream to friends or your family members.
They are even better when it's so easy to prepare and made ready to serve in a Mason jar.
2. Pumpkin Spice Oatmeal Cookies
These pumpkin spice cookies are a fun sweet treat, with all the fall feels!
Easy to make, they are a tasty vegan snack that comes together in around 30 minutes.
3. Paula Deen Pumpkin Bars
These pumpkin bars are decadent and sooo incredibly soft and tender.
Frosted with the most perfectly fluffy cream cheese frosting, they take you straight to all those feel good fall moments in just one bite.
4. Pumpkin Cake with Cream Cheese Frosting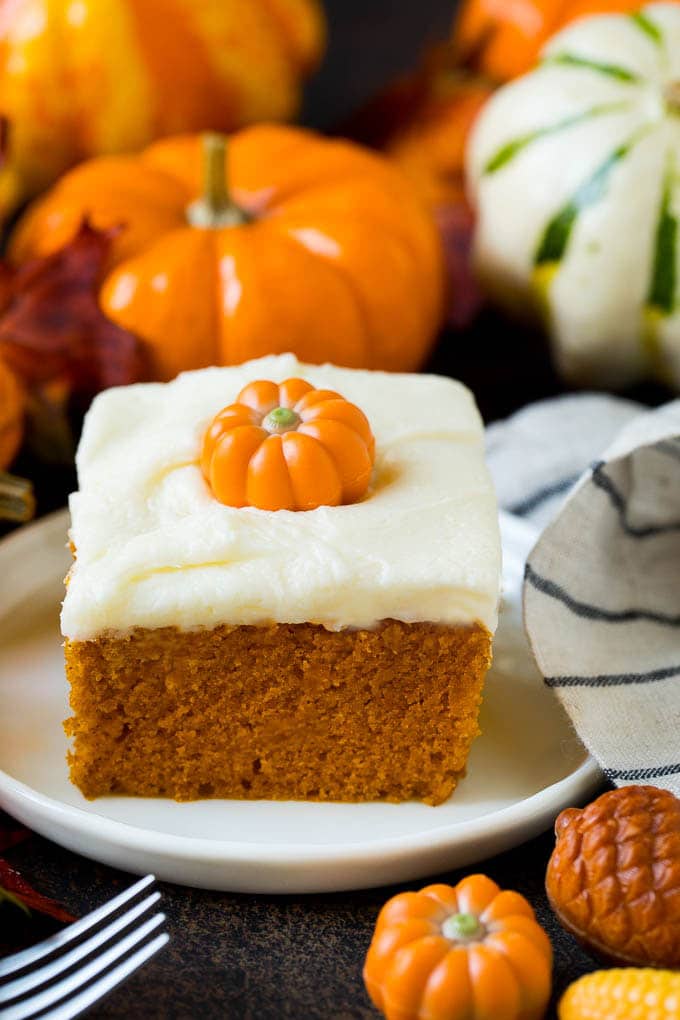 This pumpkin cake is filled with plenty of pumpkin puree and spices, then baked and topped with a generous amount of cream cheese frosting.
The ultimate fall treat that's perfect for gatherings and makes for a show stopping dessert on Thanksgiving day.
5. Homemade Pumpkin Pie
This homemade pumpkin pie recipe is a flaky crust with a smooth and creamy pumpkin filling, all baked to perfection.
Pumpkin pie is a classic dessert during the fall months, and this version is the best I've ever had!
6. Skinny Pumpkin Cheesecake
A light and delicious low-fat pumpkin cheesecake made with pumpkin puree and a chocolatey Oreo cookie crust.
This skinny pumpkin cheesecake is Weight Watchers friendly and the ideal Thanksgiving Cheesecake and pumpkin pie alternative!
7. Pumpkin Poke Cake
Only 4 ingredients and this pumpkin poke cake is a dessert that's ready for the dessert table!
You can also add caramel for a twist!
8. Pumpkin Shaped Mini Bundt Cakes
These Thanksgiving pumpkin cakes would look amazing on your holiday table!
They are a perfectly sized single servicing pumpkin Bundt cake that is almost too cute to eat!
9. Soft Pumpkin Snickerdoodles
This irresistible and easy Pumpkin Snickerdoodles cookie recipe is made with pumpkin pie spice.
They are soft and chewy little pieces of fall heaven.
A delicious fall pudding packed with pumpkin flavor!
This easy dessert is perfect for Thanksgiving.
11. Festive Pumpkin Muffins
Fall has arrived with these fluffy and moist Pumpkin Muffins with Spiced Cream Cheese Frosting.
If you love pumpkin spice, you will LOVE these muffins.
12. Pumpkin Chocolate Brownies
If you're thinking about how to curb your sweet afternoon cravings with a healthy treat then this pumpkin chocolate brownies will do the trick!
13. Pumpkin Mousse
This Pumpkin Mousse gives you all the flavor of pumpkin cheesecake in a fraction of the time!
Spend less time cooking and more time indulging in this sweet keto pumpkin dessert!
14. Instant Pot Pumpkin Cheesecake
This Pumpkin Cheesecake is smooth, and creamy, melt-in-mouth.
It's the perfect time of year for this moist, decadent cheesecake.
In just 4 easy steps, make this flawless, crack-free cheesecake for this holiday and impress your loved ones.
15. Vegan Pumpkin Brownies
Fudgy, gooey, and flourless vegan pumpkin brownies marbled with a pumpkin spice filling.
A healthy and decadent autumn treat that's simple (prep time is just 10 minutes!), and requires no special equipment.
16. Quick Bread Pumpkin Muffins
The flavors in these Quick Bread Pumpkin Muffins with Eggnog Glaze are what Fall in New England is all about.
The warmth and comfort of pumpkin and eggnog is a hug in a muffin.
17. Pumpkin Banana Bread
Enjoy this perfectly spiced Healthier Pumpkin Banana Bread as a celebration of fall!
Made with Greek yogurt, it's so incredibly moist and rich with a little extra protein.
18. Pumpkin Chocolate Chip Bread
This Pumpkin Chocolate Chip Bread is a perfect seasonal treat.
It's sweet, full of wonderful spices, real pumpkin, and dark chocolate bits.
Yum!
Also, it's made with WHOLESOME ingredients, without refined sugars.
19. Pumpkin Cheesecake Cookies
Pumpkin Cheesecake Cookies are sweet, soft, and delicious!
It makes a great fall pumpkin spiced dessert.
20. Pumpkin Cream Cheese Rolls
Pumpkin Cream Cheese Rolls make for a beautiful addition to any fall table.
They're easier to make than you might think, and full of classic fall spices.
21. Pumpkin Cheesecake Bars
These Pumpkin Cheesecake Bars have a yummy gingersnap crust, creamy pumpkin cheesecake filling, and crunchy yummy streusel topping.
It's a great make-ahead dessert for fall!
22. Healthy Pumpkin Cookies
These Healthy Pumpkin Cookies are soft and chewy inside with a crisp exterior and packed with pumpkin seeds for texture.
Best of all, all you need is a single bowl and 30 minutes for this healthy dessert!
23. Pumpkin Cupcakes
These scrumptious and adorable moist cinnamon pumpkin cupcakes are topped with an easy five-ingredient cinnamon cream cheese frosting.
Fall never tasted so good.
I love to bring these to potlucks, family reunions, and neighborhood socials.
They are the perfect individually proportioned sweet treat.
24. Pumpkin Cheesecake Sugar Cookie Bars
These Pumpkin Cheesecake Sugar Cookie Bars start with a sugar cookie crust filled with a pumpkin cheesecake filling, then are topped with more sugar cookie dough and sprinkled with cinnamon chips!
The perfect combination of sweet treats for fall!
25. Vegan Pumpkin Pie
This delicious and easy Vegan Pumpkin Pie is the best dessert to serve your family this Thanksgiving or for any occasion because it's that simple to make.
Simply blend up the filling, pour into a crust, bake, and chill till set, this creamy pie is perfect every time.
26. Gingerbread Pumpkin Pie
This Gingerbread Pumpkin Pie has a classic pumpkin pie filling inside a gingerbread crust!
Topped with spiced whipped cream, this pie would be perfect for all your holiday festivities!
27. Pumpkin Coconut Cream Pie
This dreamy Pumpkin Coconut Cream Pie puts a Fall spin on a classic!
The filling is a coconut cream/pumpkin spice custard, topped with cinnamon-vanilla whipped cream, toasted coconut, and candied pumpkin seeds!
28. Pumpkin Streusel Bread
Pumpkin Streusel Bread delivers all the flavors you are looking for in a Fall dessert!
This easy pumpkin bread recipe produces a moist, fluffy and delicious loaf topped with a crumbly streusel topping.
29. Pumpkin Chocolate Chip Cookies
Chocolate chip cookies are given a Fall makeover with the addition of pumpkin!
These soft Pumpkin Chocolate Chip Cookies come together in one bowl, making clean up a breeze!
A delicious pumpkin spice treat made using canned pumpkin puree.
This no-bake pumpkin pecan cheesecake is a great dessert!
31. Gluten Free Baked Pumpkin Donuts
These Gluten-Free Baked Pumpkin Doughnuts are a revelation and certain to become as popular in your household as they are in mine.
They have a lovely light texture, the perfect amount of spice and just the right amount of sweetness.
32. Gluten Free Pumpkin Cookies
These easy Gluten Free Pumpkin Cookies with Cream Cheese Frosting are such a dreamy little dessert.
They're pillow-y soft and just melt in your mouth with that frosting!
33. Pumpkin Cheesecake Muffins
These Pumpkin Cheesecake Muffins are sweet and full of seasonal flavors.
Packed with real pumpkin and cream cheese filling, it's an extra delicious dessert perfect for cozy Fall afternoons.
34. Pumpkin Bundt Cake
This Pumpkin Bundt Cake recipe is literally made from a box cake mix with a few extra tweaks.
Topped with an amazing homemade glaze and your home will be smelling like fall in no time.
35. Pumpkin Stuffed Dates
Chocolate-coated Pumpkin Stuffed Dates sprinkled with nuts and sea salt are the stuff dessert dreams are made of!
This no-bake fall treat is sinfully delicious, gluten-free, and is ready to be chilled in just 15 minutes.
Make a big batch and have a ready-to-devour delicious dessert anytime you want one!
36. Pumpkin Cake Baked Donuts
Fall flavors are on display in this easy-baked breakfast treat.
Pumpkin Cake Donuts laced with shredded carrot and apple along with dried cranberries, coconut, and pecans before being smothered in a scrumptious cream cheese glaze.
37. Pumpkin Spice Cream Filled Donuts
These deep fried donuts are filled with the most delightful pumpkin spice cream then rolled in cinnamon sugar!
They're light, fluffy, and the most perfect fall dessert!
38. Pumpkin Cheesecake and Chocolate Mousse
Three gorgeous parts to this decadent dessert include a pumpkin cheesecake, chocolate mousse and a dark chocolate ganache, making it the crowing glory of any meal!
39. Thanksgiving Pumpkin Trifle
This Pumpkin Trifle is the perfect pumpkin flavored dessert that has an impressive presentation!
A beautiful trifle bowl is filled with layers of crushed Biscoff cookies, pumpkin and cream cheese mousse, and whipped cream and finally topped with crushed heath candy.
40. Pumpkin Pie Crumble Bars
These Pumpkin Pie Crumble Bars are going to be your new go-to fall dessert!
A chewy shortbread base holds a thick pumpkin pie layer filled with warm spices and is topped with a buttery brown sugar cinnamon crumble for extra flavor and texture!
41. Easy Skillet Pumpkin Pecan Cobbler
Easy Skillet Pumpkin Pecan Cobbler From Scratch is the perfect fall dessert.
The creamy pumpkin filling is topped with a flakey butter pecan biscuit topping.
42. Pumpkin Fluff Cool Whip Dip
A dessert that's ready in 15 minutes?
Absolutely!
Dip your favorite crackers in the pumpkin fluff for a cool treat!
43. Pumpkin Crunch Cake
What better way to celebrate the season than with my Pumpkin Crunch Cake!
It will definitely bring smiles to your table and soon become your new family fall tradition.
44. Snickerdoodle Pumpkin Pie
Snickerdoodle Pumpkin Pie starts with creamy pumpkin custard and ends with Snickerdoodle cookie crumbles!
45. Pumpkin Pie Dessert Hummus
Pumpkin Pie Dessert Hummus is a delicious dip for fresh fruit or gingersnap cookies.
And no one will ever guess it's good for you!
46. Pumpkin Cream Cheese Crescent Rolls
These easy Pumpkin Cream Cheese Crescent Rolls are fluffy, sweet, and tangy.
#They're great for dessert, breakfast, or as an appetizer – especially during the holidays!
47. Pumpkin Brioche Bread Pudding
Pumpkin Brioche Bread Pudding is made with brioche bread, then smothered in pumpkin custard and topped with golden raisins and pecans!
48. Pumpkin Chai Ice Cream
Pumpkin spice and everything nice plus the sweet flavors of a chai latte all rolled into an ice cream cone?
Yes please!
49. Chewy and Spiced Pumpkin Oatmeal Cookies
These Chewy and Spiced Pumpkin Oatmeal Cookies are a perfect twist on your favorite cookie!
With tasty fall flavors and an amazing texture, these will be your favorite autumn dessert!
50. Mini Pumpkin Pie Tarts
These Mini Pumpkin Pie Tarts are packed with comforting fall flavors.
With a sweet cookie crust and heavenly pumpkin filling, you'll have to bring them to your next holiday celebration!
51. Mini Sourdough Pumpkin Muffins
These miniature sourdough pumpkin muffins are dipped in melted chocolate and covered in nuts.
The final touch is a skinny pretzel stick inserted in the middle to make them look like little acorns!
This recipe is both delicious and adorable.
52. Pumpkin Baked Alaska
This easy pumpkin baked Alaska is a fun fall spin on the classic pound cake, ice cream and toasted meringue dessert.
53. Homemade Little Debbie Pumpkins
This Homemade Little Debbie Pumpkin Delights recipe is a copycat version of the seasonal treat you know and love!
A healthier gluten-free, vegan, and allergy-free recipe for the soft pumpkin spiced cookies with a spooky carved face and stuffed with pumpkin butter filling!
A dessert that tastes like pumpkin pie but you don't have to wait for its limited-edition arrival!
54. Pumpkin Spice Tiramisu
The perfect combination of a pumpkin spice latte with your favorite Italian dessert, this gluten-free and dairy-free pumpkin spice tiramisu is creamy, rich, and delicious—all without the gluten and dairy.
55. Creamy Pumpkin Chocolate Chip Cheesecake
Creamy Chocolate Chip Pumpkin Cheesecake is the perfect fall dessert.
An easy-to-make chocolate sandwich cookie crust is topped with rich pumpkin cheesecake that is studded with mini chocolate chips.
56. Pumpkin Pie Vegan Custard
Smooth, creamy, and sweet, this low-fat Pumpkin Pie Vegan Custard is a ridiculously easy alternative to pumpkin pie.
Make it in under 10 minutes and chill it an easy option for Thanksgiving or just a quick dessert or snack!
57. Pumpkin Spice Latte Cupcakes
These Pumpkin Spice Latte Cupcakes are tender and spiced with a hint of espresso!
To top them off, stabilized whipped cream and a sprinkle of pumpkin spice!
Now you can get your PSL fix in cupcake form!
58. Paleo Pumpkin Muffins
These paleo pumpkin muffins are light, moist and super flavorful.
They take 10 minutes to make in just a few shockingly simple steps.
Toddlers, kids and adults all love this fall treat!
59. Easy Pumpkin Pound Cake
This Pumpkin Bundt Cake Recipe is for anyone who loves pumpkin spice!
Pumpkin pound cake is laced with warm fall spices and topped with a decadent brown sugar icing.
Baked in a Bundt pan, it looks ornate but is easy to make!
60. Pumpkin Spice Macarons
These pumpkin macarons have a spiced French macaron shell and are filled with a pumpkin spice cream cheese frosting!
61. Cinnamon Glazed Pumpkin Donuts
Your morning coffee companion just got sweeter.
Cinnamon Glazed Pumpkin Doughnuts, baked to perfection and loaded with pumpkin.
Gluten-free, vegan, and paleo, the flavors of fall will keep everyone warm and cozy!
62. Pumpkin Cream Cheese Swirl Cake
This Pumpkin Cream Cheese Swirl Cake recipe combines pumpkin cake with creamy cheesecake layers to make one beautiful dessert!
This pumpkin cake is perfect for afternoon tea or brunch.
63. Dutch Oven Pumpkin Pie Dump Cake
Enjoy the taste of pumpkin pie and cake together in this Dutch Oven Pumpkin Pie Cake.
This easy dump and bake recipe can be made at home or while camping.
64. Pumpkin Gingerbread
This Pumpkin Gingerbread is loaded with molasses, ginger, and cinnamon and is topped with a Maple Pecan Icing.
All the flavors of the holidays in one delicious dessert!
65. Easy Keto Pumpkin Cheesecake
This low carb keto pumpkin cheesecake is a sugar-free and gluten-free dessert that you should make this fall.
It's a delicious and easy-to-make sweet treat that you can have on a low carb diet.
66. Pumpkin Pie Twists
With tender and buttery crust, sweet pumpkin filling, and spicy cinnamon sprinkle, these Keto Pumpkin Pie Twists will become your new fall tradition!
67. Pumpkin Salted Caramels
These Pumpkin Salted Caramels are chewy, decadent and easy to make with pantry staples.
Follow my step-by-step guide to make these perfect edible gifts and treats.
68. Pumpkin Pie Overnight Oats
Move over pumpkin pie.
These Pumpkin Pie Overnight Oats got you beat! Rich, creamy, healthy, and naturally sweet, these pumpkin spice overnight oats are brimming with fall flavor and topped with caramelized pecans that taste just like crunchy pumpkin pie crust.
69. Brown Butter Pumpkin Meringue Cupcakes
These brown butter pumpkin cupcakes topped with a toasted brown sugar swiss meringue are the perfect fall dessert!
They're like pumpkin pie in cupcake form!
70. Keto Pumpkin Muffins
This low carb keto pumpkin muffins recipe is a gluten-free and healthy sweet treat you can make around the holidays.
Loaded with fall flavors, this sugar-free recipe is a perfect low carb breakfast or snack recipe.
71. Pumpkin Truffles
Pumpkin Truffles are a wonderful fall dessert.
#Pairing the creamy pumpkin puree centers with the outer white chocolate coating is a match made in tastebud heaven.
72. Pumpkin Pie Crumble
Think crumble/crisp meets pumpkin pie in this simple, warm Pumpkin Pie Crumble.
Thick pumpkin layer topped with a buttery oat topping.
Change up your favorite fall recipe for this version!
73. Pumpkin Spice Cream Puffs
Pumpkin Spice Cream Puffs are a perfect fall dessert recipe!
Full of warm autumn flavors in a light and crisp pastry and filled with a creamy, rich pastry cream.
74. Pumpkin Cake Pops
Pumpkin-shaped cake pops with a delicious pumpkin spice or vanilla flavor.
75. Pumpkin Earthquake Cake
This pumpkin earthquake cake is a must try recipe.
It's made with a moist, spice cake mix that's been doctored up with canned pumpkin, pumpkin spice and swirled cream cheese frosting.
76. Pumpkin Patch Dirt Pudding
Pumpkin Patch Dirt Pudding Dessert is a fun and festive dessert recipe for fall, Thanksgiving, and Halloween.
A simple instant pumpkin pudding layered with cookies and topped with a candy pumpkin patch. Full of pumpkin spice flavors.
77. Pumpkin Whoopie Pies
If you love the whoopie pies from Amish bake sales or at farmer's markets then you'll love this recipe for Amish pumpkin whoopie pies!
They're the perfect fall treat.
78. Pumpkin Fudge Bars
These Vegan Pumpkin Bars are super moist and fudgy with the perfect balance of chocolate and pumpkin.
They're a delicious cross between brownies and fudge.
These healthy pumpkin fudge bars also happen to be nut free and gluten free!
79. Gluten Free Pumpkin Sugar Cookies
These soft pumpkin sugar cookies are full of fall flavor.
Soft and chewy with a cream cheese flavored icing, you will never guess these cookies are gluten and dairy-free!
80. Vegan Pumpkin Donuts
These pumpkin donuts are spiced with cinnamon and so perfectly moist and delicious.
Super easy to whip up with just 7 ingredients, 1 bowl, and ready in 30 minutes.
81. Pumpkin Cheesecake Cookies
These pumpkin cheesecake cookies feature a soft baked pumpkin cookie and creamy cheesecake filling!
They are warmly spiced and the ultimate fall dessert.
82. Cheesecake Factory Copycat Pumpkin Cheesecake
Smooth and creamy mile high pumpkin cheesecake that has just the right amount of spice.
Enjoy Cheesecake Factory's pumpkin cheesecake year round whenever you want with this easy no bake dessert.
83. Pumpkin Fruitcake
Moist pumpkin fruitcake with lots of dried fruit.
A rich cake perfect for Christmas, a nice change from a traditional fruitcake.
Pin for Later!
Hey! Want more awesome dessert recipe round-ups? Check these out!