These seahorse cookies are perfect for kid's birthday parties and made with delicious sugar cookies and royal icing. They're easy to make, fun to eat, and a great way to go with an under the sea theme!
Seahorses are an essential part of any underwater cookie theme, and they are really fun to decorate as you can get creative with the colors.
They're also something a little bit different.
We often think of under the sea being fish, but let's not forget all of the other creatures who call it home!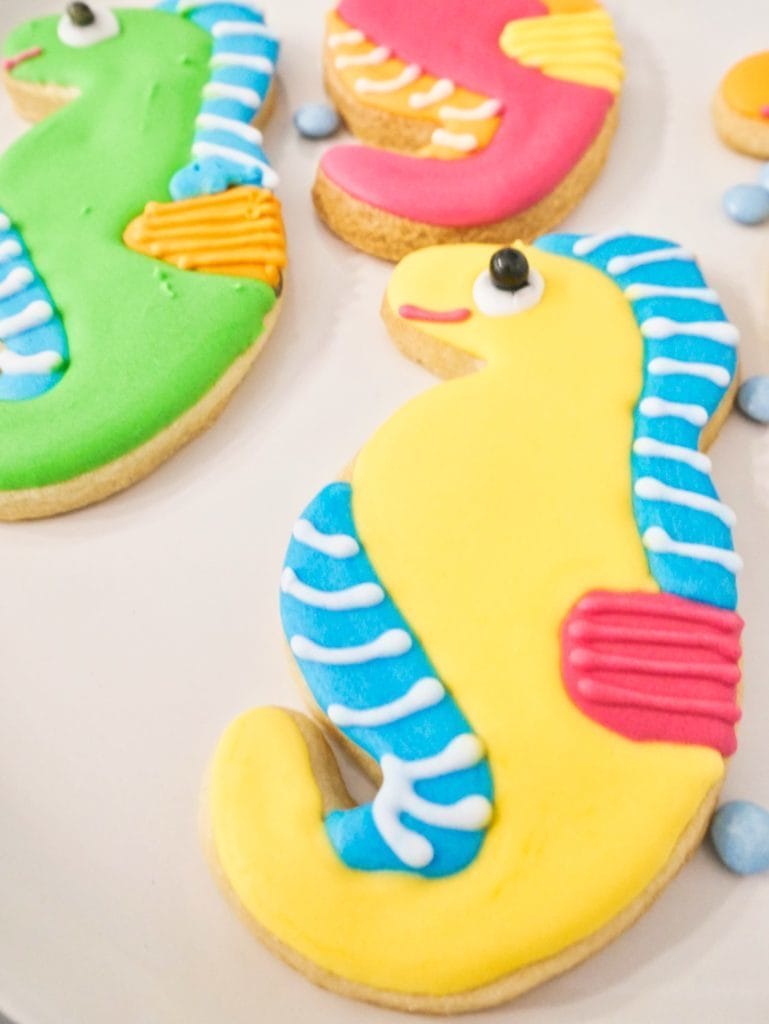 In this tutorial for seahorse shaped cookies, I'm going to walk you step by step through what you will need, how to make them, and how to decorate these seahorse sugar cookies.
GET A

FREE

COOKIE RECIPE BOOK & SECRET BAKING HACKS!
With 9 guaranteed-delicious cookie recipes and plenty of secret baking hacks, this is your ad-free key to cookie success!
These seahorse cookies are:
incredibly colorful
fun to make with kids
delicious
not crumbly
perfect for kid's birthday parties
Must-Have Baking Tools (seriously)
What You'll Need to Make Decorated Seahorse Cookies
To make seahorse cookies, you'll obviously need the ingredients to make the actual sugar cookies which you can find in the cut-out sugar cookie recipe.
In addition, for royal icing, you can find the instructions in the royal icing recipe, but you'll need: meringue powder, water, vanilla extract, and powdered sugar.
As for the tools and colors you'll need, I recommend:
Can You Refrigerate Seahorse Cookies?
People often wonder if you refrigerate seahorse cookies, as many people like to make them ahead of time.
The good news is, you don't have to!
You can store them in airtight containers for up to two weeks, as they are made with meringue powder which doesn't need to go in the fridge.
How to Make Seahorse Cookies
In order to decorate seahorse shaped cookies, first you've got to bake them!
I use this sugar cookie cut-out recipe, which creates sugar cookies that don't spread.
A cut-out recipe is different to a regular sugar cookie recipe, as the cut-out version is meant to hold its shape on baking.
This is what you need for a seahorse cookie, as you want it to be defined and look like actual seahorses and not seahorse blobs.
I like to let the cookies cool overnight before decorating, but if you leave them for a couple of hours, you should be fine.
You can buy a seahorse shaped cookie cutter online here.
How to Make Royal Icing for Seahorse Cookies
Seahorse cookies use royal icing to decorate them, which helps give you so much detail and color and control.
To make the royal icing, use the royal icing recipe I have that creates no-fail royal icing with meringue powder.
I like using meringue powder instead of egg whites as it is safe for pregnant women and basically everyone to enjoy.
The seahorse cookies are made using royal icing of one consistency, so not having a separate royal icing for the "outline" and a thinned out one for the "flood."
I find this helps keep the base looking really smooth.
These cookies were made with a 10-12 second consistency, which means that once you make your royal icing, if you drag a knife through it, it will take 10-12 seconds for the line to disappear.
You can make it thicker by doing a 15-18 second consistency if you're less sure about your royal icing capabilities, or some people like to live dangerously and do a 7-8 second consistency, which is very runny!
When you've got your royal icing, use your food coloring to create different colors depending on what look you're going for.
Start off by adding just a drop of coloring, and then increase if you want it more vibrant, as it's much easier to add more than to take away.
Finally, put your icing in piping bags and get ready to decorate!
Must-Have Decorating Tools
How to Decorate Seahorse Sugar Cookies with Royal Icing
So you've got all of the colors you want and your seahorse sugar cookies in front of you.
It's time to put them together and get cute seahorse shaped cookies!
First, use one color to outline these sections at the top of the seahorse and at the bottom.
These will be the belly and the head.
Outline with one color, and then immediately fill in with the same color.
Give the cookie a slight shake to get the icing to settle, and then let it dry for a good 30 minutes or so.
You want it to be dry enough to not bleed into the other colors once you start adding more colors around it, so the longer you can let it dry, the better.
Then, draw a U shape to create the fin, which will go just under the part you outlined for the head.
Outline the shape, fill it in with the same color, and let it dry again for 30 or so minutes.
Finally, to create the finished base, fill in the rest of the cookie with a different color for the body.
You'll want to then let this base dry for a couple of hours.
If you don't let it dry, the detail you add on top will sink into the existing icing in a mushy way and not look great.
When you've got the base dry, use a different, contrasting color to add stripes to the head and tail sections, and then use the same color as the fin to add some stripes to the fin for some texture.
The final step is to add a royal icing eye, which you can affix with a dot of icing.
And there you go, super cute underwater creature cookies that are fun, whimsical, and sure to impress!
Yield: 24 cookies
Decorated Seahorse Cookies
These decorated seahorse cookies are colorful animal cookies made with sugar cookie dough and royal icing.
Ingredients
24 cookies using cut-out sugar cookie dough
1 batch of royal icing, separated in the colors you want to decorate
Instructions
Bake the seahorse cookies using the sugar cut-out cookie recipe
Make a batch of royal icing using the royal icing recipe
Separate out the royal icing into as many colors as you want to decorate with and put into piping bags
Outline the stomach and head portions in one color and immediately flood in the same color.
Wait 15 minutes and then outline and flood the fin in a different color.
Wait 15 more minutes and then flood the rest of the cookie in another color.
Let dry for 2 to 3 hours and then pipe details on like horizontal stripes across the fins.
Add an eye and a small pink line for the mouth.
Let dry for 12 hours.

Recommended Products
As an Amazon Associate and member of other affiliate programs, I earn from qualifying purchases.