From ice cream pie to no-churn ice cream, these are the best ice cream desserts to keep you cool in the heat or to enjoy at any time of the year.
There's something about homemade ice cream desserts that just bring that flavor to the next level and let you experiment with mix-ins and flavors.
You can also make some of the ice cream milkshakes and ice cream pies with store bought ice cream if you're short on time or making it with the kids and don't feel like ice cream all over your kitchen.
Get ready to dig into these amazing desserts with ice cream and let us help you find your new favorite recipe with this list!
GET A

FREE

COOKIE RECIPE BOOK & SECRET BAKING HACKS!
With 9 guaranteed-delicious cookie recipes and plenty of secret baking hacks, this is your ad-free key to cookie success!
1. Homemade Pistachio Cardamom Ice Cream
This homemade ice cream is super easy, no churn kulfi, full of pistachio and cardamom flavor!
No ice cream maker needed! No churn!
Must-Have Baking Tools (seriously)
2. Cookies and Cream Ice Cream Cake
Make your own easy layered ice cream cake at home with store-bought ice cream, gooey hot fudge, creamy whipped cream topping, and plenty of Oreos in each bite.
3. Banoffee Ice Cream Pie
Banoffee Ice Cream Pie is a decadent frozen layered dessert with banana, dulce de leche, and vanilla ice creams, crunchy almonds, and toffee bits in a sweet and salty graham cracker crust.
4. Waffle Ice Cream Sandwiches
These waffle ice cream sandwiches might be a treat for special occasions but they are still so worth making!
This recipe, with homemade waffles, drizzled dulce de leche and filled with creamy ice cream will make you a believer!
5. French toast ice cream
Flavored with brown sugar, nutmeg, maple syrup, and vanilla, this buttery homemade custard style ice cream tastes like lazy mornings spent lingering over a plate full of maple syrup and butter drenched French toast.
6. Black Forest Ice Cream Cake
This Black Forest ice cream cake has a rich, fudgy brownie layer topped with kirsch infused cherry sauce, then a layer of vanilla ice cream.
Then finished with dark chocolate ganache and fresh cherries! It's an indulgent treat that's surprisingly easy to make and assemble!
7. Blackberry and Chocolate Chunk Ice Cream
Easy, creamy, No-Churn Blackberry and Chocolate Chunk Ice Cream.
Made with fresh blackberries, this easy summer recipe is the perfect homemade summer dessert.
8. Brownie Ice Cream Sandwiches
Homemade ice cream sandwiches that start with my classic foolproof brownies recipe.
This brownie ice cream sandwich recipe is a delicious summertime treat.
9. Homemade Strawberry Ice Cream
Homemade strawberry ice cream is naturally flavored with fresh strawberries.
The churned ice cream is silky smooth and creamy!
There is nothing better than classic, chewy snickerdoodle cookies with sweet cream ice cream.
These are the perfect summer treat, full of sugar, cinnamon and sweet cream flavor!
11. Homemade Black Cherry Ice Cream
This is the BEST homemade black cherry ice cream recipe that is made with just 4 ingredients.
This easy no churn ice cream recipe takes just 15 minutes to prep for a creamy and delicious treat that is perfect for Summer.
12. Cinnamon Swirl Ice Cream
This easy homemade cinnamon ice cream is smooth, creamy and perfect for adding to all your seasonal cobblers and cakes.
13. Chocolate Peanut Butter Milkshake
This chocolate peanut butter milkshake is such a quick and easy treat to whip up.
14. Guava Ice Cream
No-churn homemade Guava ice cream is a delicious Indian dessert recipe made with condensed milk and guavas. Perfect for any time of the year!
A simple, quick, and easy recipe that will make you love guavas even more!
15. Chocolate Toffee Ice Cream
Summertime is the perfect time for ice cream!
This no-churn chocolate toffee ice cream is super easy to make, and it's topped with a delicious homemade chocolate sauce!
16. Strawberry Cheesecake Ice Cream
What could possibly be better than the combination of ice cream and cheesecake?
This incredibly easy homemade Strawberry Cheesecake Ice Cream recipe uses only a few ingredients and makes the most delicious and creamy ice cream ever.
17. Orange Creamsicle Ice Cream
Vegan orange creamsicle ice cream is made with orange juice concentrate, French vanilla pudding mix, a little sugar, vanilla extract, oat milk, and coconut cream, and is an absolute dream come true!
The creamy smooth orange-vanilla flavors taste just like an orange creamsicle. You will want to make this dairy-free frozen dessert again and again!
18. Dairy Free Chocolate Chip Ice Cream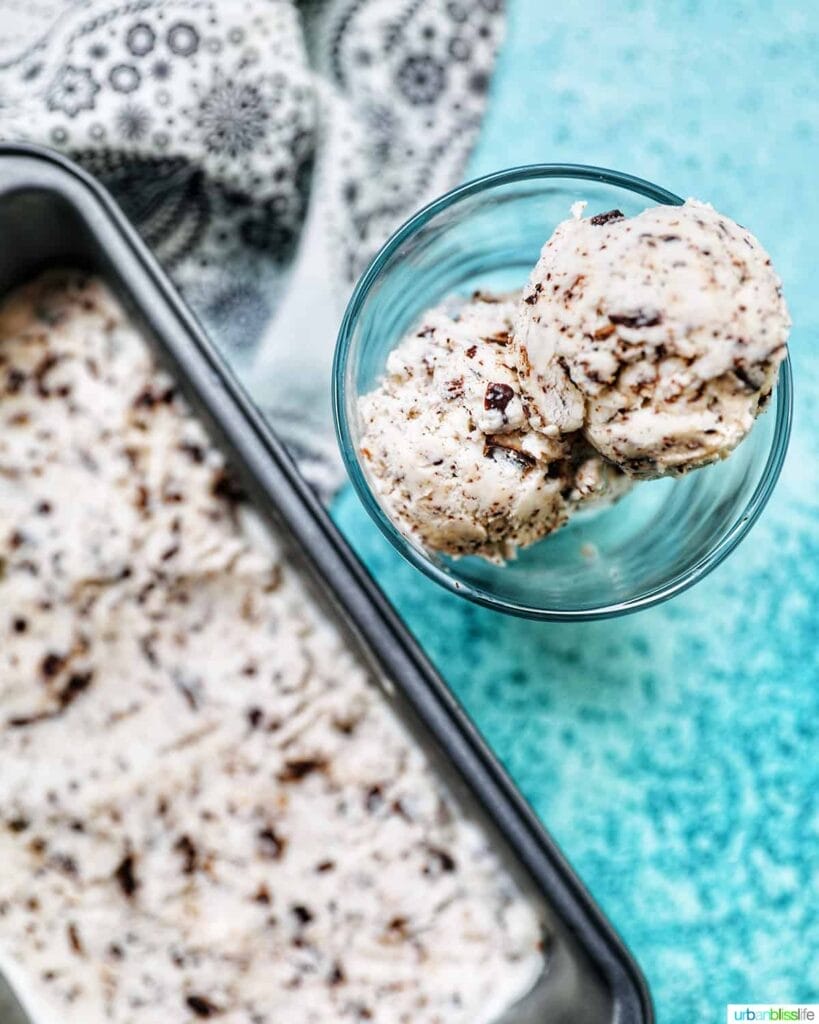 This Dairy-Free Chocolate Chip Ice Cream is just like Baskin Robbins Chocolate Chip Ice Cream – but without the dairy!
Lovely vanilla with bits of crunchy chocolate mixed in.
19. Homemade Vanilla Ice Cream
Learn how to make homemade vanilla ice cream with this step by step baking tutorial!
Homemade ice cream is WAY better than a tub of storebought!
20. Oreo Milkshake
Cookies and Cream Milkshake is a creamy, dreamy milkshake with crunchy crushed Oreos throughout making this a fun and popular summer sweet treat!
21. Mile High Mud Pie
Mile High Mud Pie is the bomb, this easy to make layered ice cream dessert is requested at every gathering and one that you can easily customize to your favorite ice cream flavors and toppings.
22. Ice Cream Nachos
The kids will love that they don't even need a spoon to enjoy this ice cream sundae!
The broken sugar ice cream cone pieces are used to scoop up the ice cream.
23. Ice Cream Poke Cake
Use ice cream to make poke cake – have your cake and ice cream all in one.
This is easy to adapt to your favorite flavors!
24. Moose Track Ice Cream
Make your own easy Moose Tracks Ice cream with this super simple, 4 ingredient no churn ice cream recipe.
Vanilla ice cream base, peanut butter cups and ripples of fudge.
25. Peach Ice Cream
This sweet, creamy HOMEMADE peach ice cream can be in your bowl in just a few hours! No ice cream maker.
No eggs. No cooking.
Just 5 ingredients, and it's so fast and easy – you'll be obsessed with it all summer long!
26. Peanut Buster Parfait Ice Cream Pie
This Peanut Buster Parfait Pie takes the best of the classic Dairy Queen treat and wraps it all up in an amazing Nutter Butter crust!
27. Pina Colada Banana Ice Cream
For a fun dairy free twist on ice cream, try this pina colada flavored "nice cream" made from blended coconut milk, pineapple, banana and coconut.
It's surprisingly sweet and so creamy and satisfying!
28. Choco Tacos
A delicious cool treat for a summer day.
Chaco Tacos are easy to make with simple ingredients and are perfect for a dessert.
29. Ice Cream Pie
Ice Cream Pie is the perfect dessert for any chocolate or ice cream lover.
It is an easy, no-bake dessert that would be great for your dessert table.
30. Cupcake Ice Cream Cones
These Cupcake Ice Cream Cones are REALLY easy to create and oh so fun!
Filled with your favorite flavor of cupcake and topped with ice cream, they'll be a winner at any event!
31. German Chocolate Cake Ice Cream
What's better than German chocolate cake?
German Chocolate Cake Ice Cream!
This decadent German chocolate ice cream with homemade German chocolate cake frosting folded in is everything you love about cake without having to bake one.
Pin for later!
Hey! Want more awesome dessert recipe round-ups? Check these out!