Whether you're making cookie sandwiches for a special event or you just want some amazing filling like buttercream between two delicious cookies, these are the best cookie sandwich recipes for you!
Cookie sandwiches are basically an easy way to eat two cookies while feel like you're just eating one dessert, which is bad for your waistline, but good for your overall cookie satisfacation.
From red velvet cookie sandwiches to chocolate chip cookie sandwiches to more exotic options like nutella cookie sandwiches, this is an amazing list of cookie sandwich recipes to get your inner baker excited.
Unlike whoopie pies or ice cream cookie sandwiches, these cookie sandwiches are made with more traditional, denser cookies (ie, not cake) and are filled with icing that isn't going to melt like an ice cream sandwich (think buttercream or cream cheese frosting).
Enjoy the best cookie sandwich recipes and let me know which is your favorite!
Pin for later!
GET A

FREE

COOKIE RECIPE BOOK & SECRET BAKING HACKS!
With 9 guaranteed-delicious cookie recipes and plenty of secret baking hacks, this is your ad-free key to cookie success!
Must-Have Baking Tools (seriously)
1. Nutella Sandwich Cookies
These Nutella sandwich cookies are a heavenly experience for chocolate lovers.
Each cookie is made up of two melt-in-the-mouth, intensely chocolatey shortbread cookies, filled with a generous layer of Nutella hazelnut chocolate spread.
2. Chocolate Candy Cane Cookies
This homemade recipe shows you how to make cookies and icing with a peppermint topping for sweet holiday flavor.
Chocolate Candy Cane Cookies are easy to make and fun to share.
3. Vegan Chocolate Shortbread Cookie Sandwich
These Vegan Chocolate Shortbread Cookie Sandwich are a delicious dairy-free and eggless sweet treats that kids will love to make, and eat!
4. Red Velvet Cookie Sandwiches
These amazing red velvet cookie sandwiches are easy to make with red velvet cake mix cookies (seriously, it's just about 20 minutes to all come together) and they're a great way to enjoy a vibrantly colorful and rich cookie sandwich.
5. Chocolate Chip Cookie Sandwich
If you prefer a classic cookie sandwich, these cookie sandwiches are made with the Tollhouse chocolate chip cookie recipe and a decadent buttercream frosting.
Soft, melt-in-your-mouth, and can be eaten warm or cold!
6. Snickerdoodle Cookie Sandwiches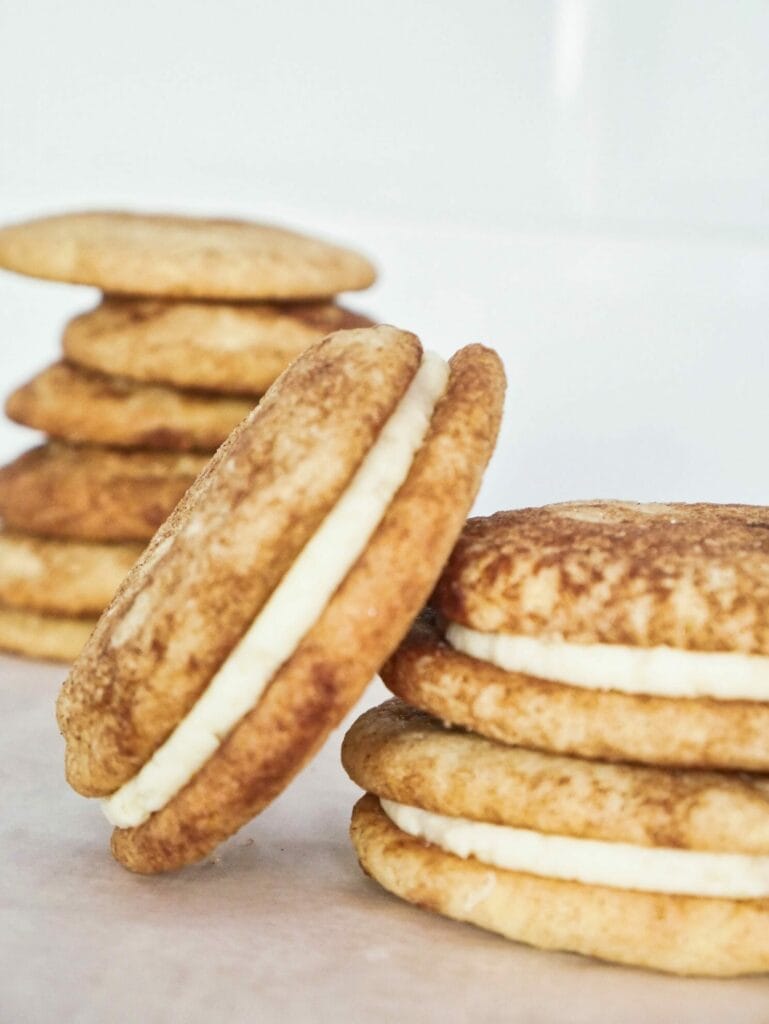 Ever thought of putting some delicious buttercream between two soft snickerdoodle cookies?
They're not traditional, but these snickerdoodle cookie sandwiches are absolutely amazing and a unique way to enjoy snickerdoodles around the holiday.
7. Homemade Cinnamon Churro Sandwiches
These Churro Lemon Cream Sandwiches feature crispy homemade churros that are coated with cinnamon sugar on the outside and are pillowy soft on the inside, piled high with a whipped lemon cream cheese frosting.
8. Lemon and Lime Cookie Sandwiches
Lemon and Lime Butter Cookie Rosettes are buttery, citrus flavored cookies, sandwiched with lemon icing that dries firm, for a sweet and sour crunch!
9. Ginger Sandwich Cookies
These ginger sandwich cookies are soft, chewy, filled with a spiced buttercream and have a dollop of rich, creamy caramel in the centre!
10. S'mores Cookie Sandwiches
Melty chocolate and gooey marshmallows sandwiched in between 2 chewy chocolate chip cookies.
11. Vanilla Creme Sandwich Cookies
These vanilla creme sandwich cookies are SO GOOD.
This dessert features vanilla wafer cookies that are light and buttery with a bright hint of lemon.
Our homemade Golden Oreos boast a luscious vanilla creme filling!
12. Carrot Cake Sandwich Cookies
A beautifully spiced oatmeal cookie complemented by coconut, carrots, and cream cheese frosting.
13. Low Carb Chocolate Peanut Butter Cookie Sandwiches
The perfect keto peanut butter cookie, stuffed with a creamy filling, then dipped in dark chocolate.
These cookie sandwiches are every bit as good as they look, and what goes better together than chocolate and peanut butter?
14. Oatmeal Creme Pies
These Oatmeal Creme Pies are made with soft-baked, chewy oatmeal cookies and fluffy vanilla buttercream.
They are the perfect dessert!
Move over Little Debbie!
15. Italian Sandwich Cookies
Italian Sandwich Cookies, a thin buttery cookie filled with your favorite filling, from a creamy Hazelnut filling to a little Jam or chocolate frosting.
You won't be able to stop at one!
Want more awesome cookie recipe round-ups? Check these out!